About two years ago a reader of mine, a native Austinite in his 60's, told me by email "that Austin is not anywhere close to as safe a city as it used to be." Once upon a time, he related, people used to regularly go to bed with their doors unlocked and left their cars with the keys in the ignition. "I would not dream of that today," he added.
While not challenging the wisdom of keeping one's car keys on one's person, I pointed out that Austin was by most metrics much safer than it had been at other points in his life. Like most other large U.S. cities, Austin's overall crime rate was much lower in 2019 than it was 20 and 30 years before. For instance, here's a chart from APD's annual crime report in 2008, looking back at the prior 20 years:
And in the 2018 report, you can see that crime dropped further in the 2010's:
So the crime rate in 2018 was about a third of what it was in 1990. An enormous drop. Violent crime didn't actually drop much during the 90's (for a few years it significantly rose) but it dropped significantly in the 2010's, from around 600 per 100,000 to 400:
Finally, murders dropped dramatically in the late 90's and early 2000's…
And then mostly stayed flat, at about 3 to 4 murders per 100,000 residents throughout the 2010's.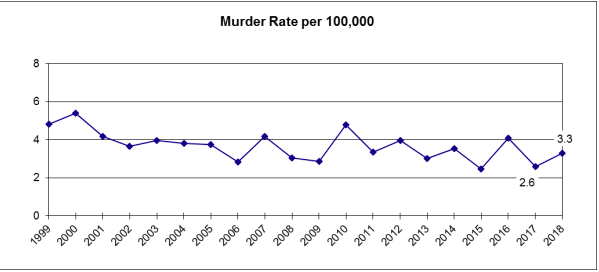 Austin was not at all unique in this regard. Below shows the national murder rate from 1986-2019, based on FBI data.
Anyway, despite all of this good news on crime over the previous 30 years, my reader's perception that Austin was more dangerous than ever was not surprising. Americans tend to believe crime is rising even when the evidence says the opposite, although they are usually more pessimistic about the nation than their locale.
There are no doubt numerous factors feeding this misperception, but in Austin I would generally point the finger at the constant crime coverage in local media, particularly TV stations. And then in the past two years there has been an intense and largely fact-free campaign by conservatives at the state and local level to portray the city as a crime-infested hellhole in response to the decriminalization of camping and the modest reduction in police spending.
But then there's 2021…
But in Austin and America overall, murders are way up this year. In the first six months of the year, Austin had 44 homicides, nearly matching 2020's total of 48. If the second half of the year is as bad as the first, we'd hit a murder rate of between 8.5-9.0, which is what was normal in the bad old days of the late 80's/early 90's.
If we look back at the past 12 months, starting on July 19, 2020, there have 63 murders, a rate of about 6.3 per 100,000, the highest rate since 2003.
Now, the good news is that the second half of 2021 is off to a stellar start: there has not been a murder yet this month. So hopefully here and elsewhere around the country, the past year will prove to be an aberration, likely explained by the psychological and economic hardship of the pandemic.
It's not Austin, it's America
Even if Austin's murder rate doubles, it will not come close to Dan Patrick's claim that it's one of the "most dangerous cities in America."
And there definitely won't be any basis for claiming that Austin's rising murder rate was due to its "defunding" of the police department. The rise in killings is hardly confined to cities that championed progressive criminal justice policy. Cities like Houston, which boosted police spending last year, are experiencing the same thing.
Now, is a national increase in homicide a justification for investing more in police? That's an argument that is worth having.