This is a free sample of the Austin Politics Newsletter from May 18, 2022. To get DAILY insights on city politics, click here to subscribe to the newsletter.
Yesterday Mayor Steve Adler and four Council members unveiled a proposed reform to compatibility regulations and parking requirements for projects located on "major" and "medium" transit corridors.
That the co-sponsors include two reliable members of the preservation bloc, Leslie Pool and Alison Alter, suggests that it could be approved with unanimous or near-unanimous support. Adler believes that it could be a rare example of the ever-elusive "consensus" that he has spent five years seeking on land use.
The problem, of course, is that this is barely reform. And there are definitely some pissed off members of Council who may refuse to support it because it does so little.
So let's look at what's proposed.
Which corridors?
The proposal targets two categories of corridors. The "major corridors" includes corridors that will be home to future Project Connect light rail routes or new MetroRapid bus routes as well as any highway. So it definitely includes N. Lamar, Guadalupe, S. Congress, E. Riverside, Burnet, S. Lamar, Menchaca. It probably also includes much of Airport Blvd; Pleasant Valley south of Webberville Rd; and some other parts of corridors, such as Manor and Springdale.
The "medium corridors" include any identified in the 2012 Imagine Austin comprehensive plan: S. 1st, William Cannon, Slaughter, MLK, Braker, Parmer, E. Cesar Chavez, Anderson Ln, Jollyville, Springdale, Cameron. I'm sure I'm missing some.
Compatibility
Currently height restrictions can be triggered if there is a property that is zoned for single-family within 540 feet. It can also be triggered if there happens to be a single-family home on a property that is not zoned single-family (that happens sometimes).
The proposal would reduce the maximum distance that can trigger compatibility to 300 feet.
For properties within 300 feet of a triggering property, the new rules would automatically offer 5 additional feet of height "by right" beyond what is currently allowed, whether it's on a large or medium corridor.
Here's how they explain it:
In the graphic below, the light green represents the existing height limit and the dark green represents the increase in "by right" height if the proposed new ordinance is approved.
The yellow in both graphics represents the additional height that will be allowed if the project is participating in an affordable housing bonus program.
This whole compatibility conversation was prompted by a proposal, floated by Ann Kitchen, to create a second tier of the existing Vertical Mixed Use (VMU) density bonus program. Under her proposal, dubbed VMU2, developers would get an additional 30 feet of height in exchange for offering even more income-restricted units than required by VMU. Critics immediately pointed out that few developers would take advantage of that program because they would not actually be able to get the additional 30 feet as long as compatibility regs were in place.
In theory, this proposal could offer a lot more housing if the bonus programs are calibrated (don't require too much affordable housing) in a way that makes them attractive to developers.
The problem is that on large corridors you still need to be at least 100 feet away from a triggering property to be able to build five stories. On a medium corridor you need to be 150 feet away. To get to six stories you need to be 200 feet away on a large corridor and 250 feet away on a medium corridor.
The issue is not simply how close a single-family home is to the corridor property, but the depth of the corridor property. If you have a deep lot (like 300-400 feet), then you may have enough space to construct a building that is at least 100 feet away from the house that triggers compatibility. Lots this deep are rare though, and in most cases if you try to build the U-shaped apartment (with a courtyard/pool in the middle) that is considered the most economically efficient, the back of the building will be less than 100 feet away from the property that triggers compatibility.
This means that most corridor properties will not be able to get the height they need to make a mixed-use redevelopment economical, especially if a portion of the units must be offered at below-market rates.
Thus, the single-story uses that we should all agree do not represent the highest and best use of a corridor property –– auto shops, car washes, gas stations, a standalone fast food joint –– are unlikely to be redeveloped into housing anytime soon.
"If they're trying to do something that truly unlocks density on the corridors, this isn't it," said one builder.
At some point, said the builder, those sites will redevelop, but probably not in the next decade and when they do, they'll likely be two or three stories of extraordinarily expensive condos, rather than the large apartment complexes that we need to have an effect on the middle-class rental market.
Chris Randazzo, chair of the Real Estate Council of Austin, said this:
"While we appreciate that Council is finally taking up changes to compatibility and parking, we are far too deep in a housing and affordability crisis to take half-measures when it comes to increasing housing supply. Compatibility will still affect almost every property in the very places Council has said they want new development—in high-opportunity areas and on transit corridors. The best time for bold housing policy was 5 years ago; the second-best time is now."
From worst to worst
The document that outlines the proposal includes a helpful graphic that illustrates just how extreme Austin's compatibility regs are compared to other large cities: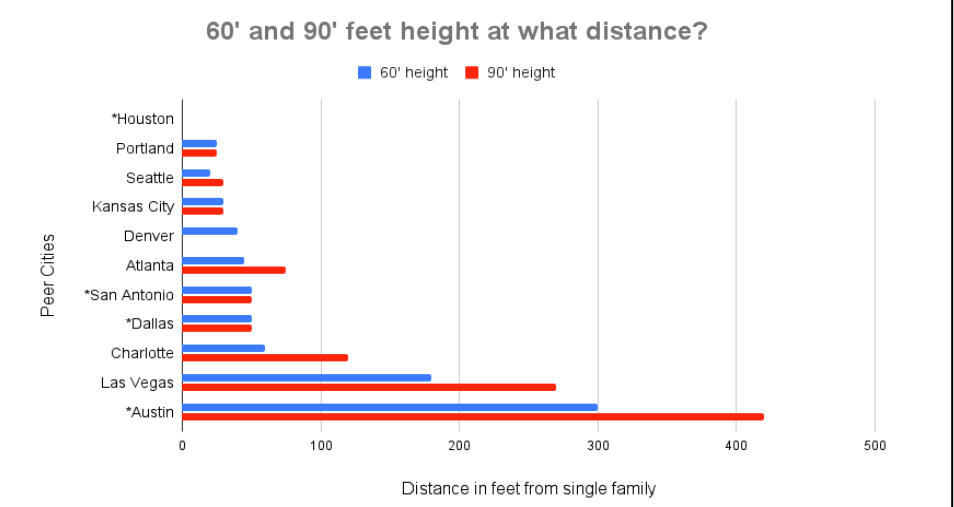 But under the proposed new rules, Austin would still be the most restrictive in terms of "by right" height. For projects that take part in the affordable housing bonus, Austin would remain more restrictive than every other city on this list except Las Vegas. Here's a graphic someone on Twitter put together:
The nine vote obsession
Discussing the proposal at Council work session yesterday, the mayor acknowledged that it didn't go nearly as far as some would like but suggested it was the best outcome possible right now.
"This exercise is about trying to get as much done as we can get done –– to not let the perfect be the enemy of the good," he said.
He later added, "It doesn't have us in court for two years. People can start applying it."
Adler is suggesting that whatever passes must pass with nine votes to protect against a valid petition.
I don't think that's accurate, but I can understand why Council members who are traumatized by Fred Lewis's successful obstruction of the land development code might believe it.
The problem with the LDC rewrite was that the city did not notify property owners. The courts also ruled that owners have the right to protest (via a "valid petition") the rezoning of their properties.
What is not clear from the rulings is if and how those petitions would trigger a requirement that Council approve the new code with a 9-vote supermajority. In a typical rezoning, the super-majority requirement is triggered if the rezoning is opposed by either the owner of the targeted property or those who own 20% of the land within 200 feet of it.
In this case, the owners of the corridor properties are very unlikely to be opposed to being able to build higher on their land. So they're not going to be a problem.
So what would be necessary to trigger the super-majority requirement? The city attorneys' current view is that you'd need signatures from those who own at least 20% of the land within 200 feet of all of the affected properties, which likely number in the thousands.
If Lewis et al want to spend the time and money trying to get all of those signatures, then Council should let them try.
Or let's say that the city attorneys are wrong, and a court would in fact decide that if if there is 20% opposition for even one of the affected properties, then that property must be voted on separately. Fine. Lift compatibility for all of the others.
This is simply excessive risk aversion. The mayor should stop obsessing about the possibility of losing a legal battle and instead think critically about the probability of losing a legal battle.
This is a free sample of the Austin Politics Newsletter from May 18, 2022. To get DAILY insights on city politics, click here to subscribe to the newsletter.