If you appreciated these candidate analyses, you should sign up for the Austin Politics Newsletter. It comes four times a week and offers in-depth analysis of city politics and policy. 
Because there are so many candidates in D9, I've decided to break the coverage into two articles. This first focuses on what I refer to as the four "pro–housing liberals." They may otherwise be referred to as urbanists. You can read about the three "less liberal" candidates here.
Ben Leffler (website)
On his website, Leffler lists his many connections to District 9.
Although he mostly grew up in Crestview, which is a tad north of the district, he was born in Cherrywood, where he currently lives with his wife and young child. He also went to UT (undergrad & a grad degree from LBJ), worked for a number of years at The Tavern at Lamar & 12th, worked for former Council Member Chris Riley at City Hall, and lived for five years living in Clarksville and for one in Hancock.
Leffler, 39, frames his view of the city's housing crisis in terms of his own life. Austin's former affordability allowed his middle class parents to raise four children in Central Austin; their incomes wouldn't have supported a mortgage in Crestview today.
Even as a young adult he got a taste of a much cheaper Austin. He could afford to rent in Clarksville when he was working at the Tavern in the mid to late aughts. And the building itself –– an old house divided into four units, offered old lessons on the benefits of "missing middle" housing that guides his support for reforming Austin's land use policies.
Asked what distinguishes him from the other pro–housing libs, Leffler highlights his deep roots to the city and district, his perspective as the only candidate with a young child and points out that he's the only one with experience working in a Council office. He only worked for Riley for seven months, but it still "taught me a lot and gave me an overview of how things get done at the city level."
Asked how he plans to address Austin's housing crisis in the face of political opposition and structural barriers, including the "valid petition" that has halted the rewrite of the Land Development Code, Leffler says that he believes there is actually strong support for reform.
"It doesn't matter what neighborhood I'm walking, there's a broad consensus that the status quo isn't working," he says.
He acknowledges there may be some reforms that aren't possible without nine supportive votes on the dais, but thinks that nine votes may very well be attainable for some major changes to land use policy.
"You gotta count votes," he says. "Depending on who's in these seats in D9 and D5 and D3, we could have the most pro–housing Council ever."
He also believes that Council should not be deterred from action by the mere threat of a lawsuit from groups opposed to reform. It's not entirely clear what the implications of the court rulings that have blocked the LDC rewrite are for a number of other land use changes, although anti-growth activists have tried to argue that essentially any change can be subject to a valid petition that would trigger the 9-vote requirement.
Leffler also views better development policies as a way to address the challenges the city faces in funding key services, including police, fire and EMS. Increasing housing supply would not only offer some relief to the high housing costs that are hammering public employees, but new development offers an opportunity for increased tax revenue that is not subject to the state-imposed revenue limits.
The other way to increase revenue, of course, is asking voters to approve an increase above the 3.5% limit, but Leffler doesn't view that as realistic politically.
"I just cannot imagine the public supporting it," he says. "That's one of the top concerns I hear at the doors is property taxes."
Leffler entered the final stretch of the election having raised the most money overall ($119k) and with the most on hand ($84k).
Zo Qadri (website)
Qadri was the first candidate to declare for this seat on Nov. 15 of last year. Everything about his candidacy –– the suit he wore to launch his campaign, the logo that draws inspiration from Liz Warren and AOC, the progressive lingo that infuses his tweets and speeches –– feels like it comes from a national race.
It should come as no surprise. Much of his professional experience comes from working on federal political campaigns. He worked as a regional organizing director for Warren's presidential campaign in South Carolina and has done short stints for various Democratic groups: ActBlue, DigiDems, NEWCO Strategies. According to Linkedin, the year he has spent running for City Council is the role he has been in the longest.
But Qadri bristles as the suggestion that he lacks the necessary local experience or that this race is just a stepping stone to a higher office.
"I think we're running a hyperlocal campaign," he tells me. "All of our folks are from Austin. We're doing all the organizing that we'll do on the local level. I care about the city. I feel like Austin is a city that took me on as its own. It's a city that I deeply love. I couldn't live anywhere else. I wouldn't run for anything else. For me this would be a stepping stone to re-election. After that I would like to go back to nonprofit advocacy."
The 32-year-old lived the first 12 years of his life in the New York area before his family relocated to Victoria, Tex. His family move, he says, was partly prompted by increased intolerance towards Muslims following the 9/11 attacks.
He then came to UT for college and later got masters degrees from Texas State and Rice in public administration and global affairs, respectively. In the 13 years since he started college in 2009, he has spent all but three in the Austin area.
More than anyone else in the race, Qadri has branded himself as a progressive. He embraces the positions and language of the national American left on every issue: climate, policing, transportation, housing.
Like most other millennial progressives, Qadri believes that the housing crisis afflicting many large cities is at least partially the product of inequitable zoning and other land regulations that make it harder to build multifamily housing. He also believes Austin's car-centric land use planning is bad for the environment.
So, what distinguishes him from the other three pro–housing liberals?
He argues that his campaign experience is a plus, saying that it has given him insight into how to rally grassroots support for policies as well as candidates. He also points out that his is the only unionized campaign, "because we're true to our values."
He has also highlighted his heritage –– his parents immigrated to the U.S. from Pakistan –– as an asset. Austin has a rapidly growing South Asian population that has yet to be represented on Council. He would also be the first Muslim elected to Council.
"If there's anything that comes of this," he says, "it's that I hope more people from my community get involved in politics."
The most obvious critique of Qadri is his lack of familiarity with city policy. When I asked him what his thoughts were about holding a Tax Rate Election to go over the 3.5% limit, he was unfamiliar with the concept and asked for time to think about it.
Although he is stridently progressive, he says that he understands what it takes to speak to people who aren't already convinced of his position.
"Not villainizing the other side is key," he says. "The moment you villainize the other side, they close their ears and stop listening and that's when communication ends."
On Oct. 1, Qadri had raised $92.7k and had $35.5k left to spend. He has spent heavily in the early stages of the campaign on staff, a deviation from conventional wisdom about how and when to spend money for a Council campaign. We'll see if it pays off.
Joah Spearman (website)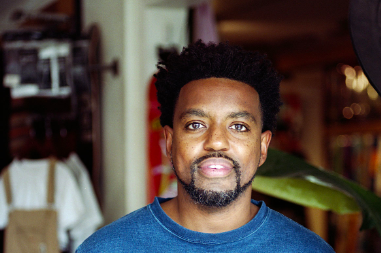 If there's one thing Spearman, 39, wants you to know about his candidacy and campaign, it's that it's different. For instance, he says things like this: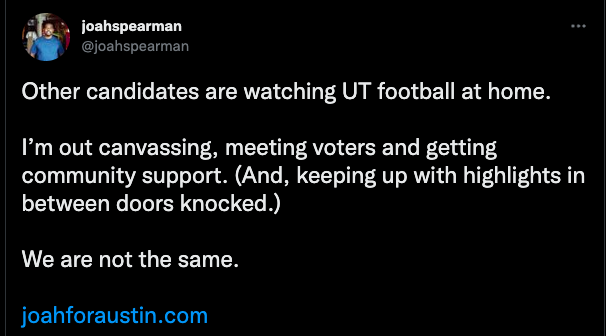 He can also be unconventionally warm to his opponents, wishing them happy birthday or encouraging his followers to check out their campaign websites. And he'll be publicly vulnerable in a way that few political consultants would advise:

His spending decisions are also highly unusual. While he has raised a respectable $82.5k, he only reported $6k on hand at the beginning of October, a fact he attributed to being busy with canvassing, rather than fundraising, during the summer. Some of his campaign spending is hard to understand, however. His campaign finance reports have shown spending on plane tickets to New York, Washington D.C. and Atlanta, all of which were described as "fundraising trips." There is no indication that he has generated significant money from those trips, however, and he did not respond to requests for comment about why he made those trips and whether they paid off.
He distinguishes himself between the other pro–housing liberals with both his upbringing and professional experience. For starters, Spearman, who was raised in Killeen along two brothers by a single mother, has the unique perspective of having experienced poverty as a child. Being the only Black candidate also offers him a distinct point of view on a range of issues in a city where African Americans now account for less than 8% of the population.
Above all else Spearman stresses his experience as an entrepreneur and community volunteer as making him the best choice for D9. He is the founder of Localeur, a service that connect travelers with recommendations from "local tastemakers." He serves or has served on numerous boards, including AIDS Service of Austin, Austin PBS and the Zach Theatre. He was the vice-chair of the Austin Music Commission from 2010-13.
He believes that his links to the worlds of business, culture and government make him the ideal representative for a district where all three intersect.
"A lot of people come from government experience and offer solutions without fully understanding the ramifications," he says. "Having run Localeur for nine years, having served on a bunch of nonprofit boards and city commissions, I can truly say that my understanding of Austin is largely shaped through the lens of someone who is deeply entrenched in District 9."
Spearman also stresses District 9's value to the city and region as a whole, not just to the increasingly fortunate few who can afford to live in Central Austin.
"As Austin grows, D9 is not going to be the place that houses everyone, but if a lot of the cultural assets are here, how do we get people in and out? Even if they live in Buda, so they can go to a restaurant, go to a show, then ideally take public transit home."
That's another thing: Spearman is currently living a car-free existence in Clarksville, where he lives with his wife, singer Angélica Rahe.
"If I'm elected, I'm biking and walking to work," he says.
Spearman believes most Austinites intuitively understand the root of the housing problem: "I think the average Austinite understands that scarcity of housing drives up prices. That's just basic economics"
He brushes away the idea that we need to achieve "consensus" on much-needed changes to land use policy.
"Consensus is not leadership. Consensus is a 3/5 compromise," he says, invoking the notorious clause referring to slaves in the Constitution. "Leadership is people coming along and saying this is fundamentally wrong and we cannot continue a nation divided."
Tom Wald (website)
Wald's pitch is pretty simple: he's the only one with the relevant experience. That's how he explains his late entry to the D9 race this spring.
"I thought about running for City Council for a long time but I wasn't certain about it," he says. "Based on who's in the race, none of them have substantial experience working on local issues."
Wald, 47, grew up "just up I-35" in Minneapolis, but he's been here since 1999. In addition to his work in nonprofit advocacy, he has had a number of roles in web development and sales.
At the beginning of October Wald had raised $36.5k and had $23k on hand.
Through his advocacy on mobility issues, most recently as head of the Redline Park Initiative and in the past as the executive director of Bike Austin, Wald says he has gained an understanding not only of how to get things passed on Council, but how of the myriad staff-level decisions that determine whether they are actually implemented.
"Having the community come out with different demographics and experience, helps to ensure that staff will move it along and also provides cover (to Council members)," he says, when describing how to push for progressive housing and transportation policy."
Moreover, unlike many urbanist types, Wald actually has spent a lot of time active in his neighborhood association in Cherrywood. That experience has helped teach him how to build trust with residents with a variety of political views.
"People want to be heard," he says.
Wald also points out that City Council itself isn't the only important institution where Council members can an important voice. The Cap Metro Board and the Capital Area Metropolitan Planning Organization (CAMPO) play a tremendous role in shaping the future of the city, and Wald has experience working with both.
As head of Bike Austin, he led a coalition that pushed for the inclusion of bike and pedestrian infrastructure on SH 71 between U.S. 183 ad SH 130. It was the kind of project where the highway-building establishment would rarely consider making meaningful space for walkers and bikers, but under pressure from activists, "CAMPO amended the project to include shared use paths."
Indeed, it is at CAMPO that the city could most effectively influence the future of I-35.
"There is almost certainly going to be a vote (on I-35) at CAMPO in 2023 because the project is almost certainly going over-budget," he says.
The city's representatives on the CAMPO board and other city leaders need to put pressure on CAMPO and TxDOT to seriously evaluate alternatives, he says, including the most radical one: converting the highway to a boulevard through Central Austin.
"This is something I learned with my transportation advocacy – if you have a reasonable position on the table that won't be accepted, you should still state it," he says.
On taxing and spending, Wald is adamant that city employees need to be "paid what they're worth," which in many instances is much more than they're currently getting paid.
When asked to balance the need to fund services with pressure to relieve taxpayers, he points out that the high property tax burden is a function of the state of Texas' policy choices, including the absence of an income tax and a school finance system that has Austinites sending most of their school tax dollars out-of-district.
Nevertheless, there are likely opportunities for efficiency, he says. Programs should be periodically reviewed and "city government has a role in communicating the tradeoffs" of taxes and spending, he says. For instance, "What does it mean if we spend 1% more on city parks?"
And of course, it all comes back to land use: "Servicing sprawl is more expensive than servicing infill."
If you appreciated these candidate analyses, you should sign up for the Austin Politics Newsletter. It comes four times a week and offers in-depth analysis of city politics and policy.